Pravachol Mevalotin 10mg 30 tabs
Generic:
Pravastatin Na.
Manufacturer:
Sankyo
Price:
US$ 62.00 (Out of Stock)
Pravachol Mevalotin 5mg 30 tabs
Generic:
Pravastatin Na.
Manufacturer:
Sankyo
Price:
US$ 55.00 (Out of Stock)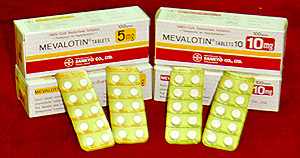 Why is this medication prescribed?
Pravastatin is used with diet changes (restriction of cholesterol and fat intake) to reduce the amount of cholesterol and certain fatty substances in your blood. Accumulation of cholesterol and fats along the walls of your arteries (a process known as atherosclerosis) decreases blood flow and, therefore, the oxygen supply to your heart, brain, and other parts of your body. Lowering your blood level of cholesterol and fats may help to prevent heart disease, angina (chest pain), strokes, and heart attacks.
This medication is sometimes prescribed for other uses; ask your doctor or pharmacist for more information.
How should this medicine be used?
Pravastatin comes in tablets to take by mouth. It usually is is taken once a day at bedtime. Follow the directions on your prescription label carefully, and ask your doctor or pharmacist to explain any part you do not understand. Take pravastatin exactly as directed. Do not take more or less of it or take it more often than prescribed by your doctor.
Continue to take pravastatin even if you feel well. Do not stop taking pravastatin without talking to your doctor.
What special precautions should I follow?
Before taking pravastatin,
tell your doctor and pharmacist if you are allergic to pravastatin or any other drugs.
tell your doctor and pharmacist what prescription and nonprescription medications you are taking, especially antacids, cholestyramine (Questran), cyclosporine (Neoral, Sandimmune), digoxin (Lanoxin), erythromycin, gemfibrozil (Lopid), itraconazole (Sporanox), niacin, and vitamins.
if you are taking cholestyramine (Questran) or colestipol (Colestid), take pravastatin at least 1 hour before or 4 hours after these medications.
tell your doctor if you drink large amounts of alcohol and if you have or have ever had liver, kidney, or heart disease; a severe infection; low blood pressure; or seizures.
tell your doctor if you are pregnant, plan to become pregnant, or are breast-feeding. If you become pregnant while taking pravastatin, stop taking pravastatin and call your doctor immediately. Pravastatin can harm the fetus.
if you are having surgery, including dental surgery, tell the doctor or dentist that you are taking pravastatin.
talk to your doctor about the safe use of alcohol while taking this drug. Alcohol increases the side effects caused by pravastatin.
plan to avoid unnecessary or prolonged exposure to sunlight and to wear protective clothing, sunglasses, and sunscreen. Pravastatin may make your skin sensitive to sunlight.
What special dietary instructions should I follow?
Eat a low-cholesterol, low-fat diet. This kind of diet includes cottage cheese, fat-free milk, fish (not canned in oil), vegetables, poultry, egg whites, and polyunsaturated oils and margarines (corn, safflower, canola, and soybean oils). Avoid foods with excess fat in them such as meat (especially liver and fatty meat), egg yolks, whole milk, cream, butter, shortening, lard, pastries, cakes, cookies, gravy, peanut butter, chocolate, olives, potato chips, coconut, cheese (other than cottage cheese), coconut oil, palm oil, and fried foods.
What should I do if I forget a dose?
Take the missed dose as soon as you remember it. However, if it is almost time for the next dose, skip the missed dose and continue the regular dosing schedule. Do not take a double dose to make up for a missed one.
What side effects can this medication cause?
Although side effects from pravastatin are not common, they can occur. Tell your doctor if any of these symptoms are severe or do not go away:
gas
stomach pain or cramps
diarrhea
constipation
heartburn
headache
blurred vision
dizziness
rash or itching
upset stomach
If you experience any of the following symptoms, call your doctor immediately:
muscle pain, tenderness, or weakness with or without fever and excessive tiredness
What storage conditions are needed for this medicine?
Keep this medication in the container it came in, tightly closed, and out of reach of children. Store it at room temperature and away from excess heat and moisture (not in the bathroom). Throw away any medication that is outdated or no longer needed. Talk to your pharmacist about the proper disposal of your medication.
In case of emergency/overdose
In case of overdose, call your local poison controlcenter at 1-800-222-1222. If the victim has collapsedor is not breathing, call local emergency services at911.
What other information should I know?
Keep all appointments with your doctor and the laboratory. Your doctor will order certain lab tests before and during treatment to check your response to pravastatin.
Do not let anyone else take your medication. Ask your pharmacist any questions you have about refilling your prescription.